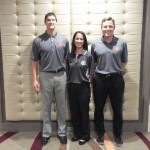 CAL-NORTH REFEREES; Eric Ehrhardt, Chris Hutchison and Deleana Quan were  selected by Director of Referee Identification and Training, Herb Silva, to attend a USSF Assistant Referee Training event hosted by U.S. Soccer in St. Louis on August 16 -18, 2013. Thirty (30) assistant referees from all over the country were  invited to this event for intensive instruction by some of U.S. Soccer's top AR instructors.
The event was similar to the Regional Training Seminar (RTS) model with multiple classroom sessions and fitness testing (current FIFA Men's AR standard). In addition the event  offered fitness/running instruction and assistant referee specific field drills.
Congratulations to our California-North Referees; Eric, Deleana and Chris for being recognized and selected to participate in the first of a USSF Event of this kind.