US Soccer Registration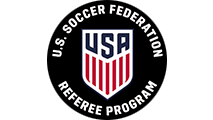 Welcome! And thank you for wanting to become a United States Soccer Referee in California North!
There are no minimum age requirements to become a referee.  However, many local leagues may require a referee to be older than the players that they are officiating.  Parents are advised to assess the maturity level of their child prior to permitting them to take one of the Entry Level Referee Courses.
Our online registration process will easily guide you through:
Selection of a Registration or Renewal Course
Collection of your personal information
Secure payment of your Registration Fees
---
Referee
New Referee Registration
Referee Annual Renewal
If you are interested in upgrading your grade level, click here.
---
Instructor
Information is coming soon.
---
Assessor
Information is coming soon.
---
Assignor
Information is coming soon.