SPONSORS: REQUEST & COST of an Entry Level Referee Course for your Club/League
If you are an organization such as a league, club, local referee association, tournament, assignor, referee coordinator, etc., seeking to sponsor an Entry Level Referee Course you can select and click on the Course Type and be directed to CNRA's online Registration, Learning and Course Management System and submit a request directly to CNRA.
---
After you have submitted the Course Request, please immediately submit the Course Fee by check made out to CNRA directly to:
CNRA
P.O. Box 848
Rocklin, CA 95677
Once payment has been received and confirmed. The CNRA Entry Level Referee Program Coordinator will then "Approve" the requested course and then post your course online for students to be able to register for the course. The CNRA registrar will also assign an Instructor(s) for the dates requested for each classroom/field session that is required for the course.
---
Course/Clinic Fees
STUDENTS WILL SUBMIT A $75 PAYMENT FOR THE ENTRY LEVEL REFEREE COURSE WHILE REGISTERING ONLINE AT CNRA.GAMEOFFICIALS.NET
SPONSORS ARE REQUIRED TO SUBMIT A $300 CHECK TO THE CNRA REGISTRAR FOR CNRA TO PROVIDE A USSF CERTIFIED REFEREE INSTRUCTOR FOR YOUR GRADE 8 ENTRY LEVEL REFEREE COURSE.
There is a minimum requirement of 10 students registered in a course 1 week prior to the beginning of the course.  If that minimum requirement is not met, the course will be cancelled and best efforts will be made to relocate the impacted students to an existing course.
Sponsors will need to have the following information ready to complete the online request within 
CNRA.gameofficials.net
:
Host League (name of organization)
Maximum Course Size (CNRA suggests no more than 30 to maintain quality of instruction and comfort for all participating students.) If more, please contact the CNRA Entry Level Referee Program Coordinator to discuss.
Contact Information (primary contact person that will be onsite before and after each session.)
CNRA Region; see map below
Location Information (physical address and special instructions if needed for classroom venue and field venue.)
Course Session Dates and Times (This course consist of two 3-hour classroom sessions and one 3-hour field session.) We recommend a 7v7 or 9v9 field. Also acceptable is a full size field, open park, gymnasium or large conference room that provides approximately 30 square yards.
Special Requests (anything entered here is not displayed to the public. Sponsors may make special requests, such as instructor preference, etc.)
Description (anything entered here is displayed to the public along with the course listing. You may create additional statements/instructions such as, "In addition to the $75 CNRA registration fee, a fee of $20 will be collected by the sponsor on first session of this course.)
Instructions for Requesting a Course.pdf
Instructions for Requesting a Course.ppt
Your request will be automatically directed to the CNRA Entry Level Referee Program Coordinator for review and approval. Approval is based upon instructor availability.
Sponsors should first determine which CNRA Region they are located.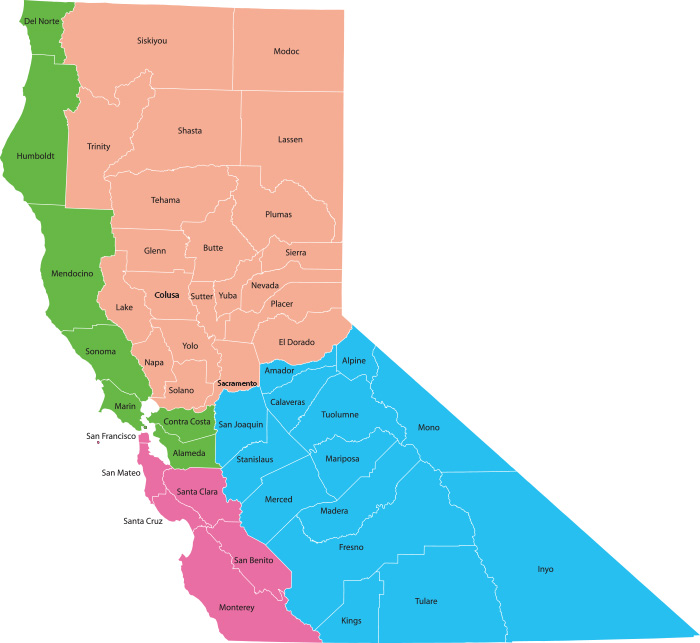 The sponsor must be able to provide and secure a classroom type setting of tables and chairs for students and an area of the classroom to display video presentations upon screen or appropriate wall. Also a facility to provide the field session must also be provided and secured. A small-sided field or larger or any outdoor or indoor facility with open space of at least 30 square yards is required. Please have be able to have your facilities open and available to the instructor at least 30 minutes prior to the scheduled time of the session so they may set up and begin instruction on time.
The $300 course fee must be received by CNRA registrar before the course is approved and available for students to register online.
Sponsors must assume all responsibility for the cost of any fees for the facilities and payment to CNRA for the Course. CNRA limits sponsors to only charge participants up to $30.00 each to cover any of these costs.
The Entry Level Referee Course is a 9-hour course. Students must attend the entire course and then take an online comprehensive test at home within one week of completing the field session. Any student missing any part of the course will be removed immediately and may re-register to any future course. CNRA registration fee will be automatically be transferred to the new course where they will again have to complete the entire course.
Sponsors may request that their course be limited to only league or club members. They they choose to do so the CNRA Entry Level Referee Program Coordintor will provide you with a code. Sponsors will then have to supply this code to members of their League/Club/Association.
The Grade 8 Entry Level Referee Course prepares and certifies referees to begin to referee small-sided games and other younger age groups of recreational and competitive youth soccer games.
The Spanish Grade 8 Entry Level Referee Course: this course and testing is taught fully in Spanish