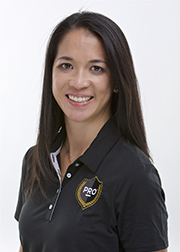 Cal North Assistant Referee Deleana Quan will represent the United States at the 2018 FIFA U17 Women's World Cup in Uruguay.
Following success at the 2016 U17 Women's World Cup, 2017 Concacaf U-17 Championship, 2018 Algarve Cup, and the 2018 Tournament of Nations, FIFA AR Deleana Quan has been selected to return to the prestigious U17 Women's World Cup. She is one of 30 Assistant Referees and 15 Referees headed to Uruguay for the tournament, which runs from November 13 to December 1.
Deleana joins two other U.S. Soccer officials, Ekaterina Koroleva and Felisha Mariscal, who were all selected to attend based on experience, fitness level, and ability to read the game. This tournament also acts as part of the selection process for the 2019 FIFA Women's World Cup in France.
Congratulations, Deleana!